The 9th Open
International Performance Art Festival
in Beijing, China Oct. 2008

4 - 5 Oct. 2008

UNofficial web by ARAI Shin-ichi
*In this UNofficial web, I can only show you the performances which I could take pictures by myself.
Official web:http://www.openart.org.cn/openartsen.asp?id=20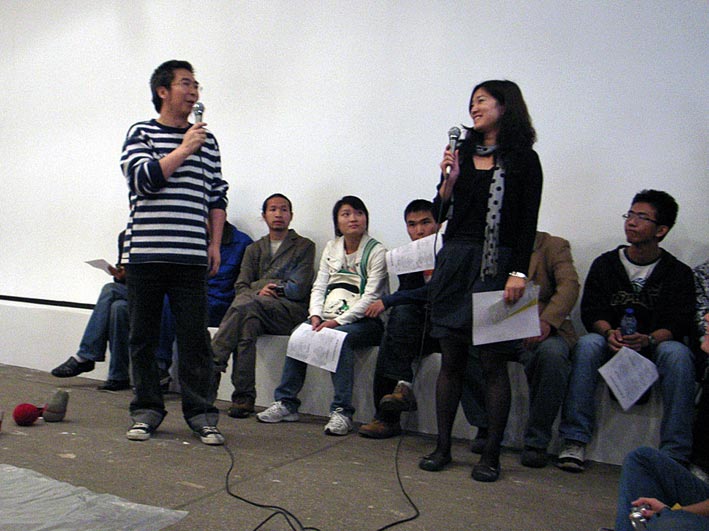 Hans T Sternudd (Sweden), Tina Scherzberg (Denmark), Lorena Wolffer (Mexico), Gerard Altai(Spain), Angelika Fojtuch (Poland), Cesar Martinez(Mexico), Snezana Golubovi(Serbia/Germany), Chen Jin(China)+Wen Rui(China), ARAI Shin-ichi(Japan), Si Mao(China),Ye Fu(China)+Xiao Yu(China), Ko Shulan(Hong Kong), Wen Zhu(China), Liu Di(China), Ma Yangling(China)+Wang Bingmi(China) ,Huang Yan(China), Martin Reneria(Mexico), Po Ju(China), Xu Dian(China)

Director:

Chen Jin
<
openart@126.com
>
Curators:
Martin Reneria
,

Huang Yang
Staff:
Vigi,

Cooperation Agency Sponsors:
The Art and Culture Foundation,Poland
Danish Cultural Center
Denmark Art Association
Embassy of Mexico
Mexico Foundation for Culture and Arts
Mexico State Council Foundation
METROPOCITANA Mexico University
Hisao-Kazuko Foundation,Japan
---
From Director


The Open International Performance Art Festival began in 2000 (by curators, Chen Jin, Shu Yang and Zhu Ming), when the performance art merged to prosperity in China.
It has been held 8 times successfully with the purpose of establishing "free platform for International Performance Art"in Beijing, Xian, Chengdu and Changchun.
The artists involved include more than ten countries and areas with 300 artists.
Many participants take part in the planning with the spirit of independent,openness and freedom to express.
The art festival made great cultural impact and became a famous platform among international performance artists.
And we would like to introduce excellent international performance artists and show our performances to Chinese audience to enjoy them together.
---
4 Oct. 2008 at Open Realization Art Center, Dashanzi 798 Art District
Hans T Sternudd (Sweden)
"I have seen"
Si Mao(China)
"No title"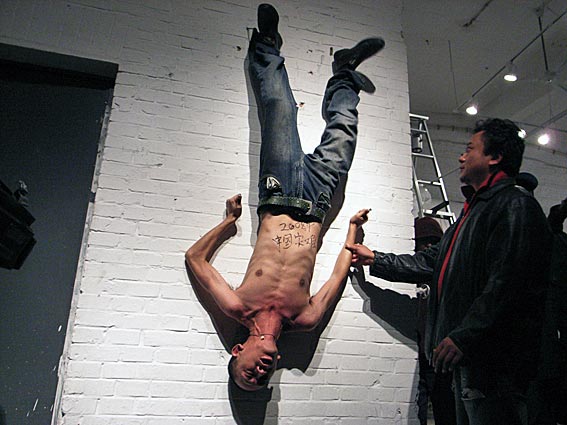 Martin Reneria(Mexico)
"Now No.5"
Ma Yangling(China)+Wang Bingmi(China)
"Woman Book No.8"
ARAI Shin-ichi(Japan)+Angelika Fojtuch(Poland)
"Thank you Joseph Beuys"
Lorena Wolffer (Mexico)
"Mapa de recuperacion"
Tina Scherzberg (Denmark)
"Tina Scherzberg went to China to tell pillow stories"
Gerard Altai(Spain)
"No Pasaran"
Wen Zhu(China)
"Sorting"
Po Ju(China)
"What"

---
5 Oct. 2008 at Open Realization Art Center, Dashanzi 798 Art Diatrict
Snezana Golubovic(Serbia/Germany)
"Counting lesson"
Liu Di(China)
"War"
Ye Fu(China)+Xiao Yu(China)
"Core"
Angelika Fojtuch(Poland)
"4U"
Huang Yan(China)
"Land scape No.2"
Xu Dian(China)
"Dialogue"(Video work)
Ko Shulan(HK)
"No title"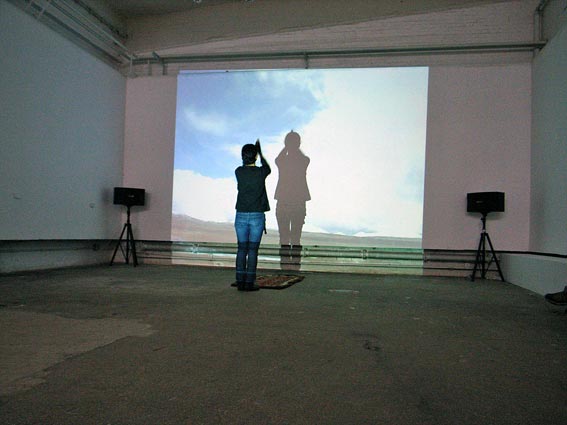 Chen Jin(China)+Wen Rui(China)
"Grow up"
Cesar Martinez(Mexico)
"No title"

---
The 1st Open Art festival 2000 in Beijing
The 2nd Open Art festival 2001 in Sichuan
---
2nd DaDao Live Art Festival 2004 in Beijing
3rd DaDao Live Art Festival 2005 in Beijing


---
=>
Back to ARAI web
ARAI Shin-ichi
(web master/
shinichiarai@hotmail.com
)

(from 28th March.2009)