Indonesia International Performance Event 2006
"Birds Migration"
in Jakarta, Indonesia
7 - 9 Dec. 2006

UNofficial web by ARAI Shin-ichi
Official web http://www.iipae2006.blogspot.com/
*There were many performances in same time at another places.
So I could not see all performances.
In this UNofficial web, I can only show you the performances which I could see and take pictures by myself.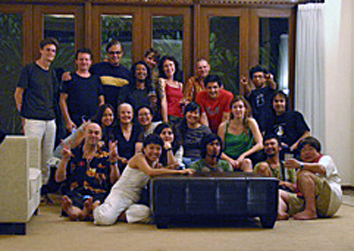 Angie Seah(Singapore), Angga Wedhaswara(Indonesia), Agnes Yit(Singapore), ARAI Shin-ichi(Japan), Cheng Guangfeng(China), Emily White(USA), Ilham J.Baday(Indonesia), Inari Virmakoski(Finland), Hong O-bong(Korea), Jacques van Poppel(Netherlands), Jane Jin Kaisen(Denmark), Jennifer Nelson(Greece), Jeremy Hiah(Singapore), Juliana Yasin(Singapore), Mukmin Soge Ahmad(Indonesia), Lee Wen(Singapore), Lina Adam(Singapore), Nezaket Ekici(Turkey/Germany), Peter Grzybowski(Poland), Prilla Tania(Indonesia), Zane Trow(Australia), Rahmat Haron(Malaysia), Ray Langenbach(USA/Malaysia), Razif(Malaysia), Rizman Putra(Singapore), Roi Vaara(Finland), Sophia Natasha Wei(Singapore), S S Listyowati(Indonesia),Tiarma Sirait(Indonesia), Tang Da Wu(Singapore), Yoyoyogasmana(Indonesia), Yustoni Volunteero(Indonesia) and Many artists
---
From Organizers
Performance Art in Indonesia is considered a new genre. Despite the pro and contrafs in society, even in art community, the genre is growing and developing, even though in sporadic ways. To some of the people or groups, they already took serious process in every stage, both in researches as well as event organizing and discourse development. Some individuals have already honored in some international forums.

Further, taking the account of some observations done previously, it is found some basic discourse gaps in Performance Art. It is well-known, that even in art community and performance art community we would find facts that the study discourse of performance art history have not been acknowledge. This gap has lead into an instant or 'just do it' mode compare to 'think first' before proceeding with your ideas. Later it resulted on stagnation within the process. The concept presented has thin layer of argumentation, because people tends to rely on impulsion compare to rationalization descriptive chain, and or even deny the critiques after all. This influence the richness of performance shapes. Some of the performers in the community even declared they resign due to lack of fresh ideas.

Like or not, understandable or not, the genre is a reality and need to be acknowledge in their own space as one of the science, no bargain.

Looking at the metaphor of birds migrating [Birds Migration]. These can not be obstructed. The metaphor pictures thousands of birds migrating from one continent to the other, reproduction, assimilating, create new species based on their continent specification or even preferred to keep their origin, daring the epidemic faced today, bringing hundreds of dead toll from the avian flu. Itfs unstoppable.

Even so, following the migrating birds which runs their ecosystem as the nature law, parallel with the wind, soaring high up into the wide sky, wings glaring and open gracefully, sailing a new frontier, seedlings other life, seeds, plants, rice, yeats, flowers, pioneering the blossoms of flowers and the ripe of fruits, dazzling trees, endemic species surviving to find their food, in a harmony, in a restless livelihood or stability, always moving from one phase of life towards another, designing new cells and oasis.

Birds Migration : Indonesia International Performance Art Event [ IIPAE ] 2006 aimed to self-analog with the above description. The event held variety of spirits within numbers of event with special theme 'Bird Migration" located within several venues. The main spirit is to gather networking between the activists in various events and programs, based on common awareness of the importance in history study of the performance art spreading as a genre in involving actors and many messages in raising awareness towards the political, social, individual, cultural and more. These need further understanding and new strategy in dealing with gcurrenth form, later creating the gpresenth creations.

The event hopefully could give aspirations for many people related, at least in the knowledge aspect. Together with the Indonesian National Gallery (Galeri Nasional Indonesia ) as the national leading arts institution, it is hope that the event could become one of the main support in art and science, not for Indonesia, but also for the world.

Committee
Producers: Galeri Nasional Indonesia [GNI]
In-Charge: Head of GNI - Jakarta
Production Director: Tubagus 'Andre' Sukmana
Production Manager: S S Listyowati [Atieq]
Seminar/ Workshop/ Artist Talk Division : Heru Hikayat
Performance Division: Yoyoyogasmana
Exhibition Division: Reza Afisina [Asung]
Curators: Heru Hikayat, Yoyoyogasmana, S S Listyowati
---
7 Dec. 2006
at Indonesian National Gallery
Rizman Putra (Singapore)
Juliana Yasin (Singapore)
Mukmin Soge Ahmad (Indonesia)
Angie Seah (Singapore)
Prilla Tania (Indonesia)
Cheng Guangfeng (China)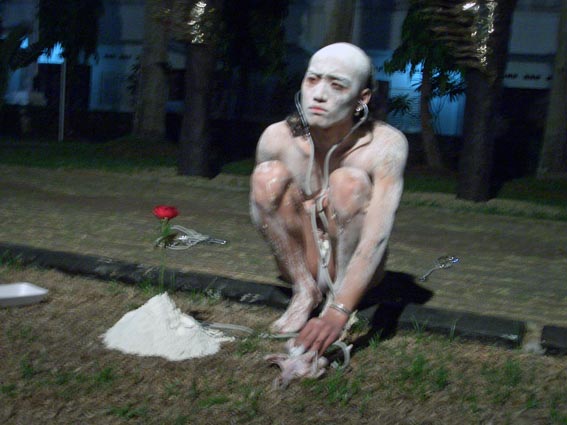 ---
8 Dec. 2006
at Indonesian National Gallery
Tang Da Wu (Singapore)
Workshop

Yustoni Volunteero (Indonesia)
Angga Wedhaswara (Indonesia)
Hong O-bong (Korea)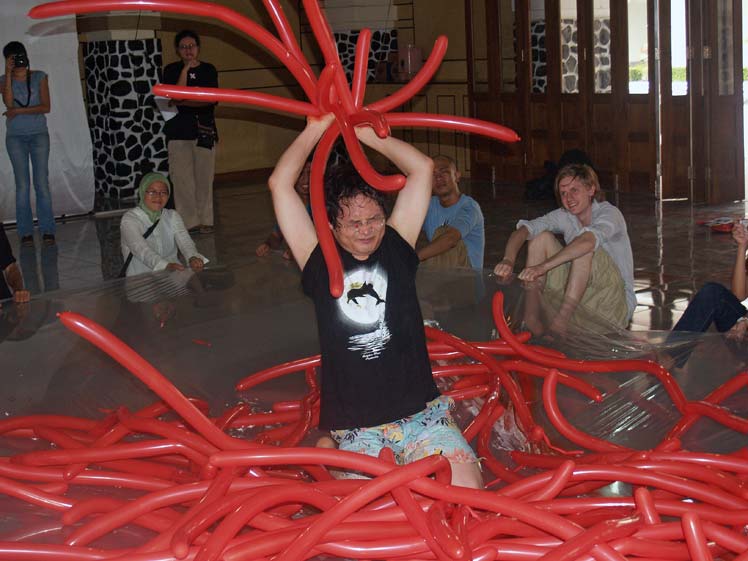 ARAI Shin-ichi (Japan)
"Happy Japan! for Shu Yang"
Ray Langenbach (USA/Malaysia)
Sophia Natasha Wei (Singapore)
"migration of the soul"
ILham J. Baday (Indonesia)
Peter Grzybowski (Poland)
Nezaket Ekici (Turkey/Germany)
"Apeiron"
Inari Virmakoski (Finland)
Zane Trow (Australia)

---
9 Dec. 2006
at Indonesian National Gallery
Lee Wen (Singapore)
eAdef Asep Deni (Indonesia)
xxxxxxxxx
xxxxxxxxx
Yoyoyogasmana (Indonesia)
Emily White (USA)
Roi Vaara (Finland)
"THUNDER MAN"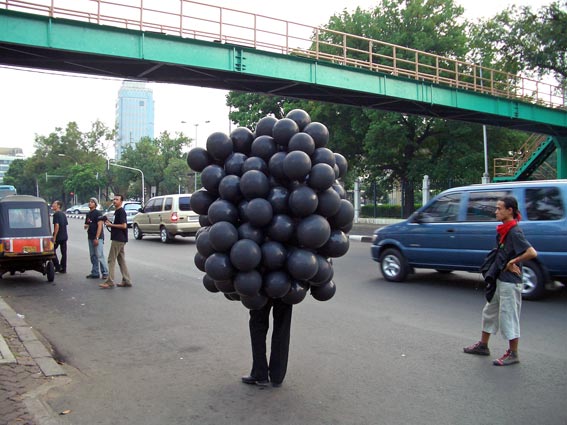 Lina Adam & Jeremy Hiah (Singapore)
Agnes Yit (Singapore)
Rahmat Haron (Malaysia)
"My bird can not fly -skull's tattoo series"
Jennifer Nelson (Greece)
Razif (Malaysia)
Jane Jin Kaisen (Denmark)
"Trans*mi*gra*tion"
S S Listyowati[Atieq] (Indonesia)
Jacques van Poppel (Netherlands)

---
---
Jatiwangi International Performance Artist
in Residence 2006
in Jatiwangi, Indonesia
16-18 Dec. 2006
Yoyoygasmana, Deden Sambas, Irman A. Rahman, Frino Bariarcianur, Mukmin Soge Ahmad, SS. Listyowati (Indonesia) ; Juliana Yasin, Angie Seah (Singapore); Dimitry & Jennifer Nelson (Greece); Nezekat Ekici (Turkey/Germany); Rebecca (Australia); Emily White (USA); Inari Virmakoski (Finland); ARAI Shin-ichi (Japan)

---
From Organizers
Jatiwangi is known as the centre for roof tile production. JAP 2006 is a contemporary art festival that showcases multi disciplinary art [sculpture, installation, performance art, film etc] in the village location of Jatiwangi-Jatisura-Surawangi in Majalengka near Cirebon-West Jawa. This project invites professional artists to stay for a short period of time in the local's residence. During the period of residence, artists collaborate with the locals to create works of art for the festival.

For the locals of Jatiwangi, this project hopes to create awareness of contemporary art practice and to open other possibilites of creative activities. Besides bridging relationships and meeting between people, this project also hopes to open international networks for the future of Jatiwangi so to be more alive and open.

Organised by: JATIWANGI ArtFACTORY & AppreRoom
Project Director: Ariefyudi
Email: ariefyudi@yahoo.com

---
16 Dec. 2006
in front of Jatiwngi Art Factory
ARAI Shin-ichi (Japan)
"Viva! Globalisation"


Sorry I, ARAI, came back to Tokyo just 16 Dec., So no another documentation
See Julie's (Juliana Yasin) Blog
http://jy1970travelblog.blogspot.com/

I would like to say thank you to
Ariefyudi, his family and friends for helping me kindly in my residence 11-16 Dec. in Jatiwangi

---
=>Back to ARAIart web

ARAI Shin-ichi (web master/shinichiarai@hotmail.com)

(from 8 Jan. 2007)