"Birds Migration"
in Jakarta, Indonesia
9 Dec. 2006
Roi Vaara (Finland)
"THUNDER MAN"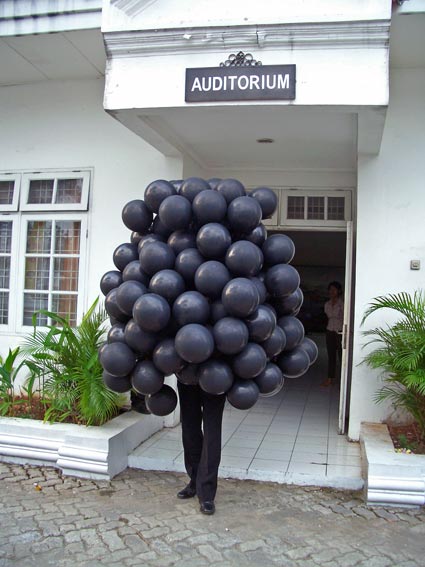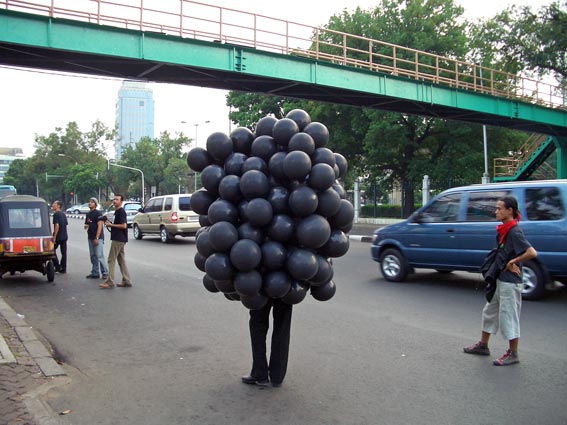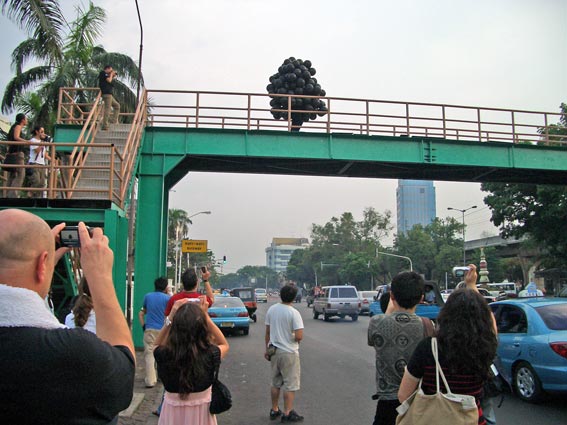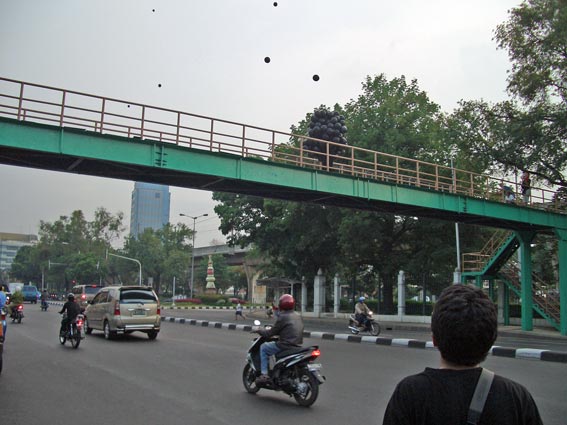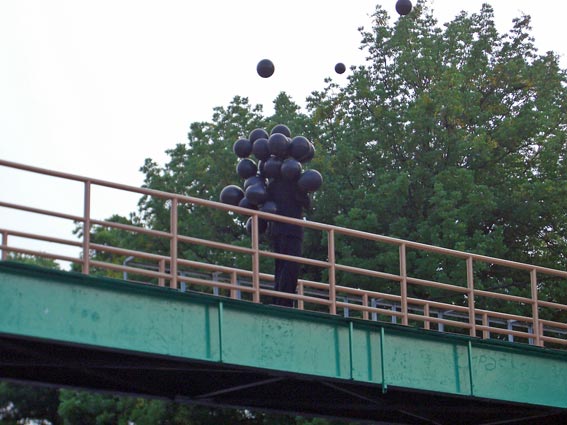 Roi Vaara (Finland)
"THUNDER MAN"

---
Roi Vaara
"THUNDER MAN"
Description of the work:
A man is covered by black balloons. Only his black pants and black shoes will be seen. The man strolls slowly in a public space. A sound of thunder is heard. At the end the performer cuts up the threads and the balloons will fly one by one to the sky.

Roi Vaara CV
Roi Vaara is one of the most internationally recognized performance artist from Scandinavia. He was born in 1953 in Moss (Norway), but was grown up in Helsinki, Finland, where he has caused constant controversy in the art world and cultural life since the early 80s. His critical point of view is not to attract public sensation but to challenge the way we are looking at things.

Vaara studied in the University of Art and Design 1972?75 in Helsinki and art research in Jyvaskyla University 1976?77. He is one of the founders of Muu ry (1987), an artist run interdisciplinary artist association in Finland and the proposer and one of the founders of IAPAO (International Association of Performance Art Organizers) in Essen 2003. Vaara has organized and curated performance events, i.e. "Poikkeustila", the first performance festival which gathered the artists from the whole Finland in 1999. In 2001 Vaara organized performance festival "EXIT" in Helsinki, which assembled about 300 artists from more than 30 countries. Vaara received a state
award from Arts Council of Finland in 2000 and Ars Fennica prize in 2005.
Vaara was selected in Kunstlerhaus Bethanienfs international atelier programm in 1997-1998 in Berlin, Germany.

Vaara has made performances since 1982. Since 1988, Vaara has participated in performances of Black Market International (BMI), whose work proposes performance art as a simultaneous form of communication. Vaara has performed in the most prominent performance art festivals in the world and also in Kassel dokumenta, Germany (1993), Venice Biennal, Italy (2001, 2005), Havana Biennal (2004), and Manifesta 5, San Sebastian, Spain (2004). Until now Vaara has presented more than 300 different performances, that has taken
place in about 200 international exhibititons/festivals in 35 countries. In 2005 his large body of works was first time collected and showed for the general audience in his Ars Fennica retrospective in Amos Andersson Art Museum in Helsinki. Vaara lives in Helsinki.
---
=> Top page
=> Araiart.jp