"Birds Migration"
in Jakarta, Indonesia
8 Dec. 2006
ARAI Shin-ichi (Japan)
"Happy Japan! for Shu Yang"

ARAI said
In August, 2000 I came to Beijing, China for first time. I participated The 1st Open art festival. It was the first international performance art festival in China organized by Chen Jin, Shu Yang and Zhu Ming.
In 1999 I met Zhu Ming at Nippon(Japan) International Performance Art Festival (NIPAF) in Japan.
So Zhu Ming invited me the festival.

At the airport I met Shu Yang, Chen Jin and Wang Ni for first time.
Zhu Ming was very busy so he could not come to pick up us.
Among organizers only Shu Yang can speak English well. And I can not speak Chinese so I and Shu Yang very closely talked about fine art, social condition and political situation in both China and Japan.
Since 1st Open I participate all Open and anther fantastic festival organized by them in China.
So I thought we became good friends.

In June 2002 My friend San Mu/Chen Sisen in Hong Kong Organized the performance art festival for memorial of Tiananmen massacre in June 4th 1989
So I and Shu Yang met in Hong Kong. That time Shu Yang was not busy because he was only performance artist not organizer. So we had more time to talk each other.

One day he suddenly said to me that He was very afraid of me when he met me in the airport.
Because I was the first Japanese person whom he really met to take care of.
His grandfather was brave communist army to fight against the Japanese Emperor army invaded China. And Shu Yang likes him very much.
His grandfather talked him many stories how the Japanese Emperor army did incredible inhumane things in China.

May 2005 I came to Beijing to participate 3rd Dadao festival organized by Shu Yang and his friends.
Before Beijing I visited My mother in my home town where she lives alone. She was 78 years old.
She asked me that Do not go to China, if you go to China you will be killed. She really crying.
Those days in Japan almost all days TV showed big demonstration of Chinese people against foreign policy of Japanese government in Beijing, Shanghai and many big cities.
Some people burned the Japanese flag.

ARAI showed audience the Japanese pasport
that adapt Chrysanthemum flower design.
Chrysanthemum is the emblem of Japanese Emperor family.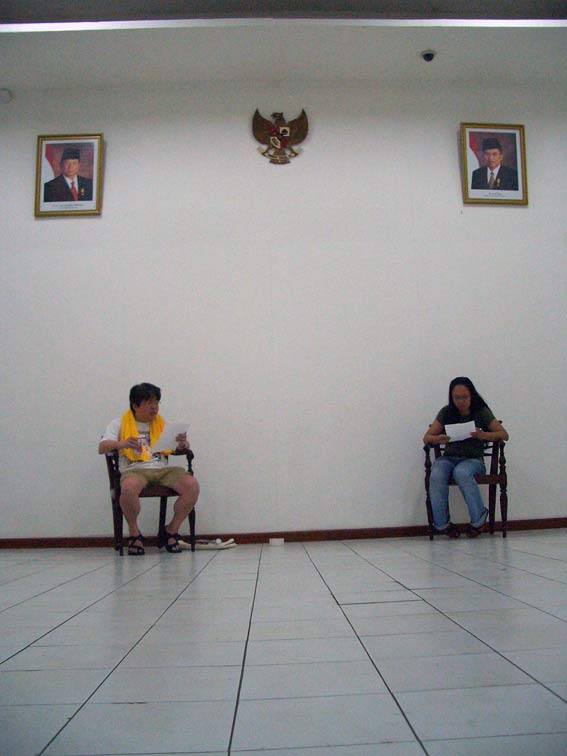 ARAI (left) and the translator (right)

ARAI showed his Chrysanthemum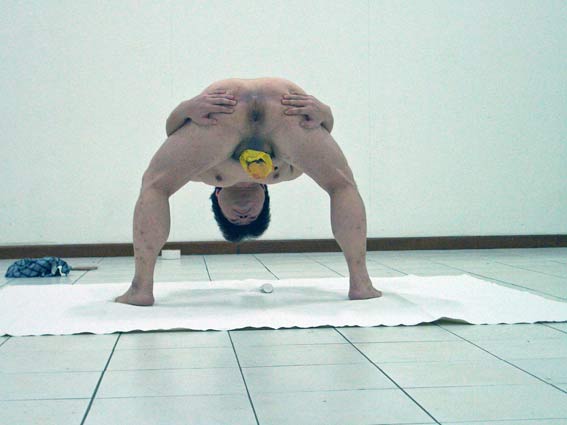 ARAI sung Japanese National anthem
"Kim ga Yo" means "Long live our Emperor"
with having a sit down red paint.
ARAI was dancing in cercle.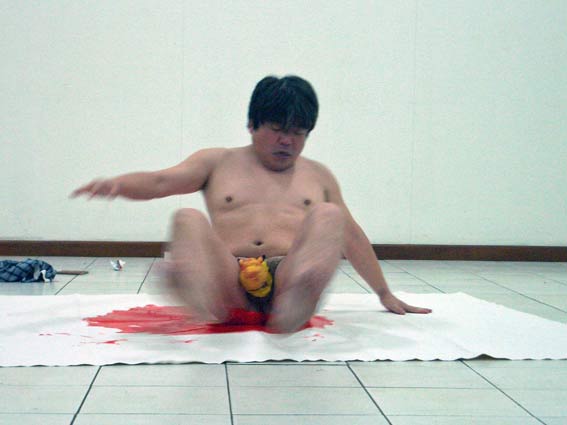 ARAI said
The title of this comicbook is "What is a patriotic war?"
The comicbook's author says that Japan must have more military power. We Japanese must have more patriot spirit. There was no Nanking genoside by the Japanese Emperor army. There were no Chinese nor Korean nor E.A. women sex slaves in the Japanese Emperor army.
They were only commercial prostitutes. Because They get little money from their customers.
Almost milion people bought this book and almost all of them are under 30.

He then tore out each page of the comic book, giving some of the pages to the audience and keeping some to put in his mouth to chew on.
Then ARAI shouted "Happy Japan!"
again and again until he can not do it.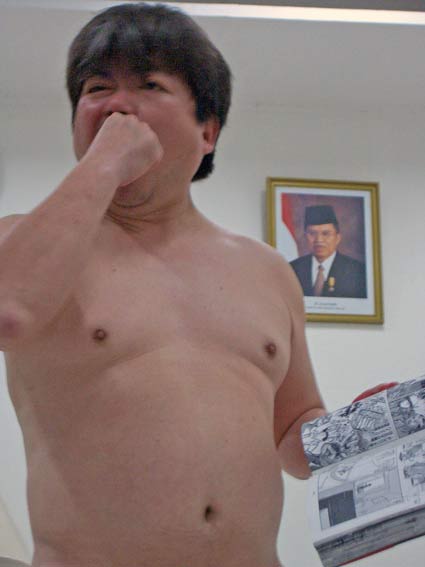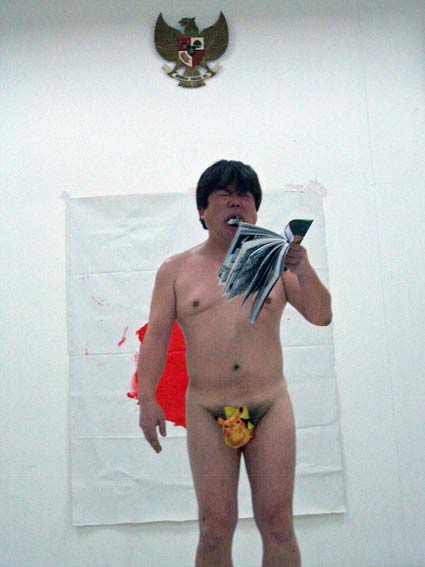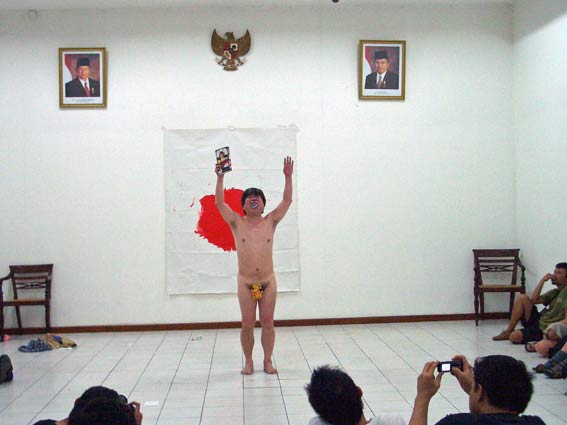 ARAI Shin-ichi (Japan)
---
=> Top page
=> Araiart.jp