The International Performance Art Festival
in Bandung, Indonesia April 2004
after The 2nd IAPAO meeting
28-30 April 2004

UNofficial web site by ARAI Shin-ichi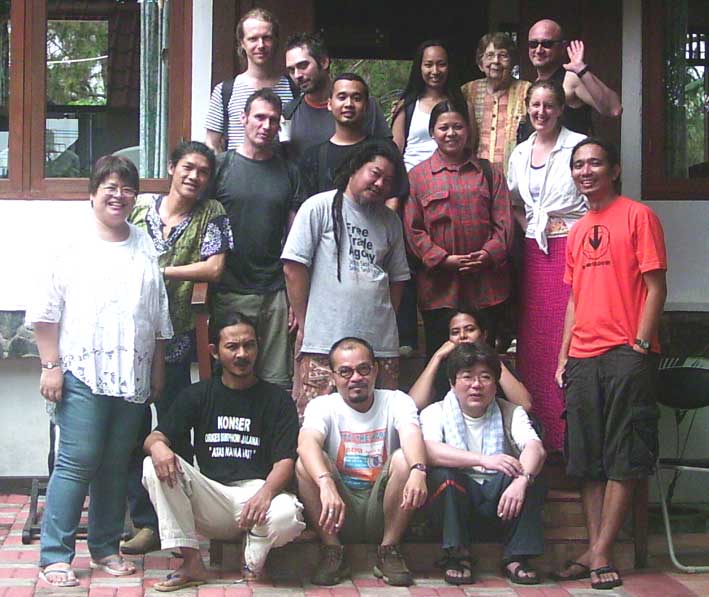 Angga Wedhaswara (Indonesia), Prila Tania (Indonesia), Isa Perkasa (Indonesia), Ferial Affif (Indonesia), Roni Brons (Indonesia), Hendrawan Riyanto (Indonesia), Tisna Sanjaya (Indonesia), Jogya Brothers (Indonesia), Mideo M.Cruz (Philippine), Johannes Bergmark (Sweden), Paisan Plienbanchang (Thailand), ARAI Shin-ichi (Japan), Jill McDermid (USA), Elang Deny (Indonesia), Massimo Zanasi (Italy), Thanom Chapakdee (Thailand), Vichukorn Tangpaiboon (Thailand), Andre Eric Letourneau (Canada), Doug McColeman (Canada), Yoyo Yogasmana (Indonesia), Wawan S.Husin (Indonesia)
---
The festival and IAPAO meeting were organazed by
B+PAC(Bandung + Performance Art Community)
Director : Yoyo Yogasmana
Program Manager : Heru Hikayat
Documentation & research staffs : Frino Bariarciarnur : Nandang Gawe
---
28 April 2004 at Rumah Nusantara ,Bandung

1.Angga Wedhaswara (Indonesia)
"I wana be an angel"

2.Prila Tania (Indonesia)
"The Bride and the Broom"

3.Isa Perkasa (Indonesia)
"Swallowing Flags

4.Hendrawan Riyanto (Indonesia) in Memoriam of his death May 21.2004
"Banana's Family"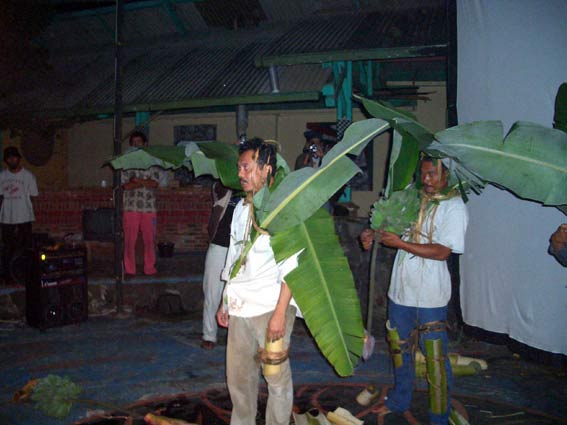 5.Roni Brons (Indonesia)
"Junk Food"

6.Ferial Affif (Indonesia)
"In the Name of Love"

7.Tisna Sanjaya (Indonesia)
"untitled"
Tisna Sanjaya walkeg on foot from Dago to Maribaya while he was having a chat with people he met along the street, about the road construction plans, or about many issues which were interesting to be discussed with at that time. The journey was recorded on Video. Then, the records will be performed to the performance art festival audiences.

---
29 April 2004

1.Jogya Brothers (Indonesia)
"Tradisi Bermerek"

2.Mideo M.Cruz (Philippine)
"State Of Affair"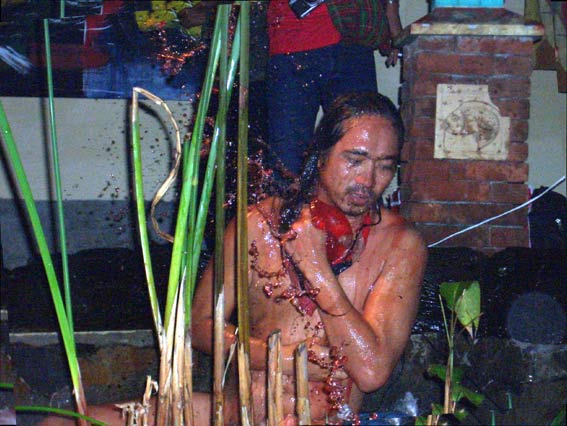 3.Johannes Bergmark (Sweden)
"Stringed Stirrups"

4.Paisan Plienbanchang (Thailand)
"What A Fucking Thing You Do"

5.ARAI Shin-ichi (Japan)
"I love Japan! --'Hikokumin' on the birthday of ex-Emperor Hirohito--"

6.Jill McDermid (USA) and Elang Deny (Indonesia)
"Pray For Peace"

---
30 April 2004

1.Massimo Zanasi (Italy)
"HOSTAGE"

2.Thanom Chapakdee (Thailand)
"Untitled"

3.Jill McDermid (USA)
"Blessing"

4.Vichukorn Tangpaiboon (Thailand)
"The Value of Freedom"

5.Andre Eric Letourneau (Canada) + Doug McColeman (Canada)
"Almost Untitled"

6.Yoyo Yogasmana (Indonesia)
"FLOWER Buckets (TRIAL PERFORMANCE)"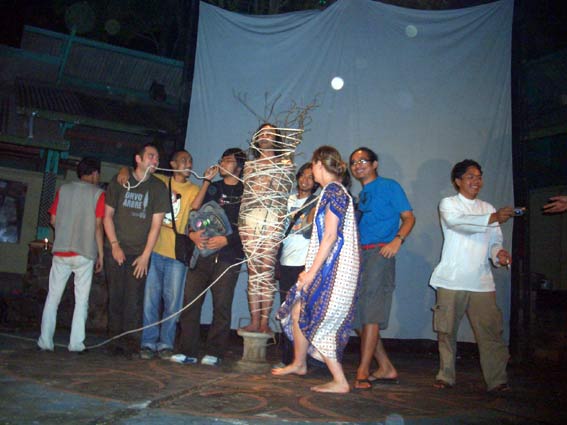 7.Wawan S.Husin (Indonesia)
"The Clayman Revisited"

---
Wed Action #4, Jogjakalta + SOLO ACTiON!, Solo
Indonesia 4 - 6 May 2004

---

since 8 June 2004

©ARAIart.jp