June Art Action
Live Art + Music
in Hong Kong, China June 2005
3--4 June 2005

UNofficial web by ARAI Shin-ichi
Official web-site http://www.hongkongperformanceart.com/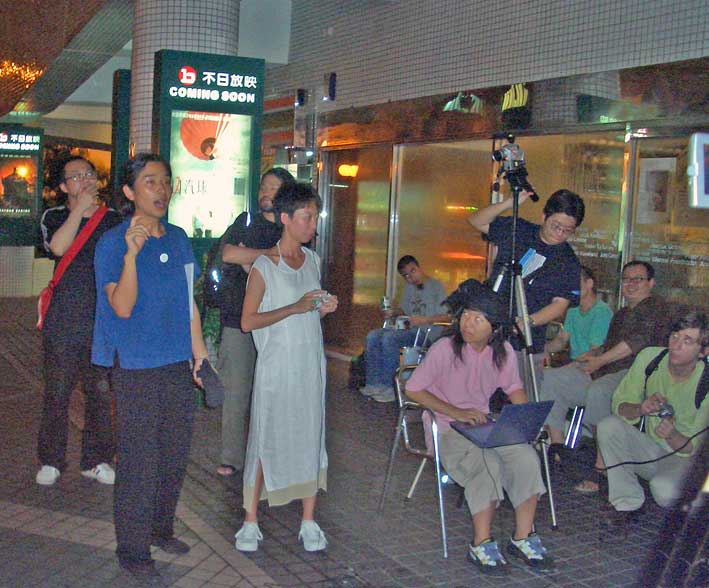 June Art Action is initiated by local and overseas artists in memory of the June Fourth Massacre.
The artists are concerned about the development of democracy in China.
Through their artworks, they hope to stir up critical reflection and awareness on democracy and liberty.

participants
Wang Chu Yu(P.R.China), Yang Zi Chao(P.R.China), ARAI Shin-ichi(Japan), Chen Si Sen/San Mu(Hong Kong), Ko Siu Lan(Hong Kong), Leung Lik(Hong Kong), Project 226(Hong Kong), Tsang Tak Ping(Hong Kong), wen yau(Hong Kong), yuenjie(Hong Kong), Chen Wai Fat(Hong Kong), LCM(Hong Kong), TAKEDA Ken-ichi(Japan), Nelson Hiu(Hong Kong), Lenny Kwok(Hong Kong)

Presented by; Asian People's Theater Featival Society
Poster design; ger
Orgernizers; Ko Siu Lan, Lenny Kwok, Chen Si Sen/San Mu

---
3 June 2005
Kubrick
Broadway Cinematheque, Prosperous Garden, 3 Public Square Street, Yau Ma Tei, Kowloon

1. wen yau (Hong Kong)

2. TAKEDA Ken-ichi(Japan), Nelson Hiu(Hong Kong), Lenny Kwok(Hong Kong), Jess To(Hong Kong), Chen Wai Fat(Hong Kong)
Collective Free Improvisation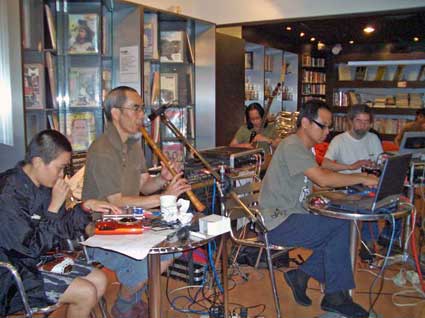 3. Ko Siu Lan (Hong Kong)
---
4 June 2005
Kubrick
Broadway Cinematheque, Prosperous Garden, 3 Public Square Street, Yau Ma Tei, Kowloon
---
2-4.30pm
Seminar: Nation and Nationalism in Art

From Nationalism to Art / From Art to Nationalism

Introduction
Simon Shen
(Roundtable)

Speakers:
Wang Chu Yu
(P.R.China)
"National Violence" /Vacume of Art in the Patriotic Chaina

ARAI Shin-ichi
(Japan)
"Japan" beyond Left, Right and Nations and Conceptual Art
Gum Gum
(Hong Kong)
Nationalist/Patrimonial Influence in Social Action
June Fourth Music Beyond Nationalist Complex.
LEUNG Po-shan
(Hong Kong)
Some notes on Performance ,Nation and Nationalism in HK
Co-ordinator and Editor of the semminar; LEUNG Po-shan,Anthony
---
5-7.00pm
Performance
s
1.
Wang Chu Yu
(P.R.China)
2. Project 226
(Hong Kong)

3. Yang Zi Chao
(P.R.China)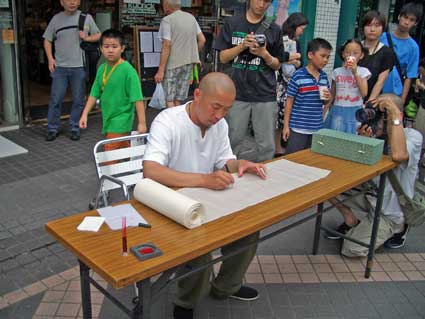 4. Leung Lik
(Hong Kong)

5. yuenjie
(Hong Kong)

6. ARAI Shin-ichi
(Japan)
+ TAKEDA Ken-ichi
(Japan)

"Tourist #8 International"


---
11 June 2005
Dragon boat festival Happenings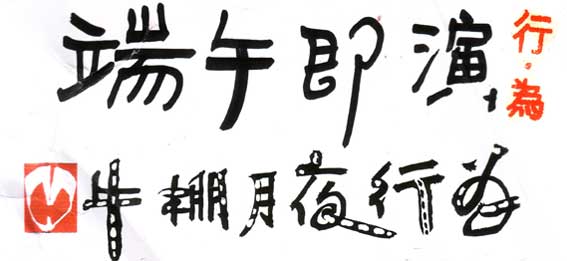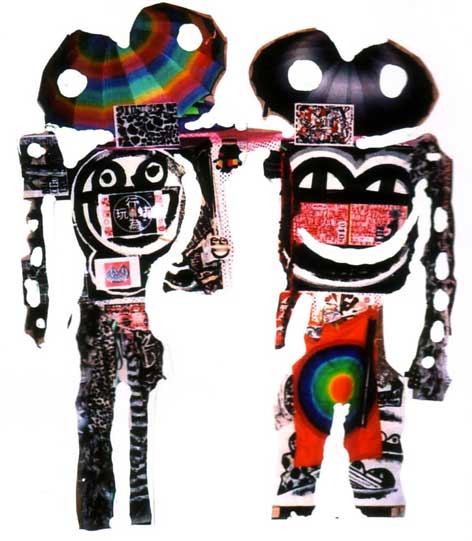 11 June 2005
Frog King Museum; Cattle Depot Artist Village, 63 Ma Tau Kok Road, Tokwa Wan, Kowloon, Hong Kong

1. Kwok Mang Ho/Frog King (Hong Kong)
2. Leung Lik (Hong Kong)
3. Chen Si Sen/San Mu (Hong Kong)
"The old city Fengjie"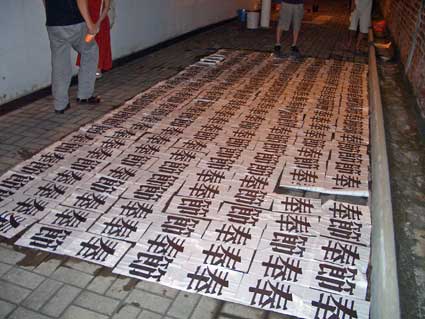 4. ARAI Shin-ichi (Japan)
"Viva! Globalisation-'Azinomoto'-"

Presented by Frog King Museum HK

---
Performance tour for 6/4 in Hong Kong and Guangzhou2-18 June 2002
---
I would like to say many many thanks to
Robin and Mokchai
Jenny and Lee (http://existrandom.idv.st/ )

---
=>
Back to ARAIart web
ARAI Shin-ichi
(web master/
shinichiarai@hotmail.com
)

(from June.26 2005)