2006年5月4日 富山
Mongkol Plienbangchang (モンコー/タイ)
"衝突する地平線"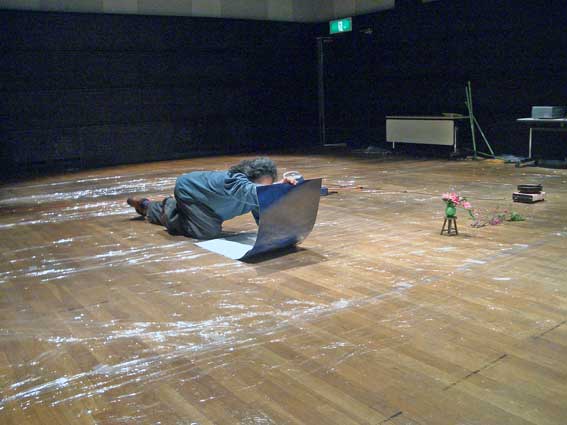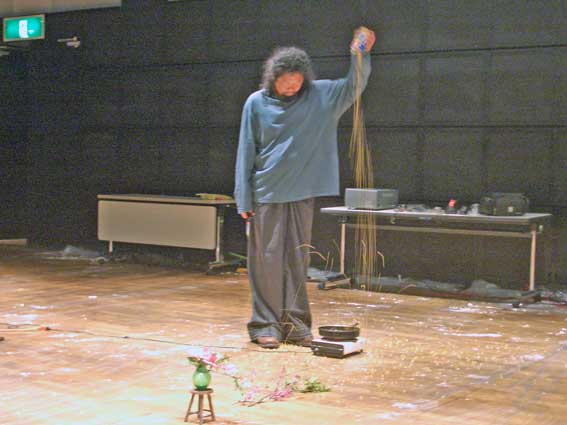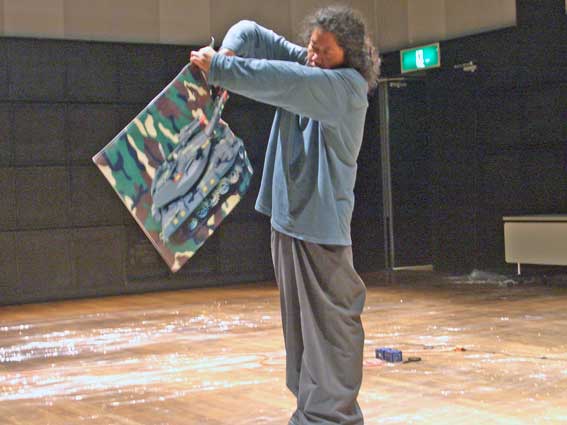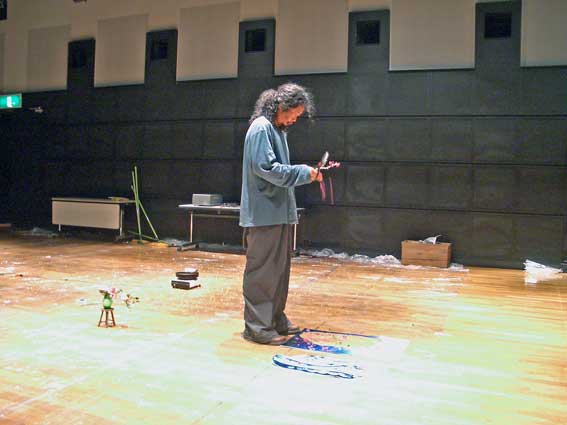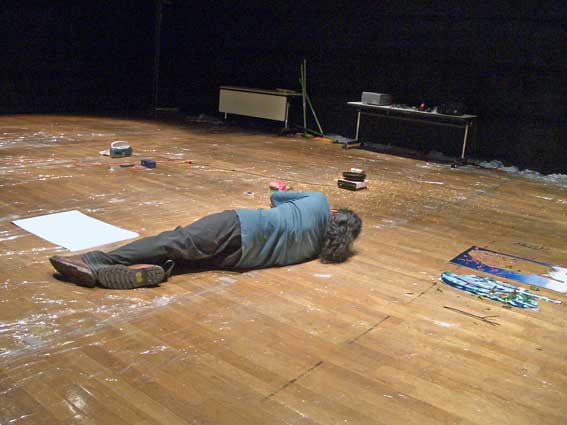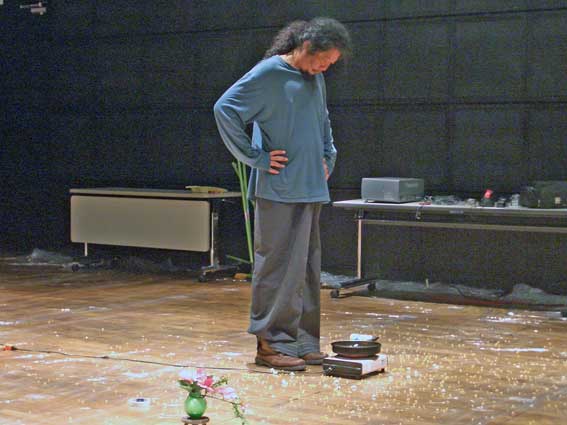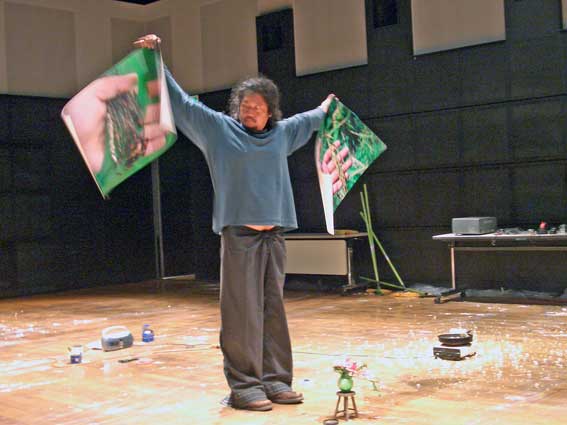 ---
Mongkol Plienbangchang
(モンコー・タイ)


1965年

バンコクに生まれる。
詩人であり、画家。

1985年

パフォーマンスを始める。

1990年

SUANDUSIT教育大学美術科卒業

1995年

U-Kabatグループの一員として芸術活動、社会運動にかかわる
。


モンコルの作品はつねに高い強度を持ち、資本主義と土着文化にたいして批評的な考察をもって、タイの政治的状況を喝破する。
モンコルは50以上の作品をタイやアジアのフェスティバルで発表。
タイの国際パフォーマンスアートフェスティバル
「アジアトピア」
の実行委員も努める。
つねに、いろいろなアートグループ、社会運動との連携を図っている。
Selected Exhibitions

1994
The International Fax Art "TOXICITY" at Concrete House, Nontaburi
Bangkok Outsider 2nd at Roung pung Art Community, BKK
1995
"Nevermind! Nuclear" Bangkok Outsider 3rd at Roung pung Art Community,BKK.
"Passion & Love" at Aiem jun Rest&Gallery - Nai indra Bookshop,BKK.
"Art-Social" at Predee Pranomyong institute,BKK.
1996
LIVE ART,THAILAND The First Performance Art Event,Concrete House,Nonthaburi.
"Virtual Reality" Roung pung Art Community,BKK.
"MEGA-CITY" Rhatchada phisake,BKK.
1997
"Up Side Down" Bangkok Outsider 4th at Roung pung Art Community,BKK
"Private Situation" at Ban silp ram indra,BKK
"Society and Spirit of Glabalization" at The art centre,Centre of Acadamic Resources Chulalongkron University,BKK
"Art for Celebration 65 years of Thai Democracy" at Predee Pranomyong Institute,BKK
"Western Australian International Artists Workshop 1997" Birdwood Dawns,Derby,Kimberley,Australia
LIVE ART THAILAND, The Second Performance Art EVENt, Concrete House, Nonthaburi
1998
"Never my Land" Amazing Art for Amazing Thailand with U-Gabat Group at Sunday Gallery,BKK
"Urbanization" Collaborative event, Bandung INDONESIA
"Plastic(& other ) Waste" with Asia-Pacific Artist Solidarity Group at The art centre ,Chulalongkorn University,BKK
"Moody on madly" with Paisan Plienbangchang at Roung pung art Community,BKK - "ASIATOPIA 1" International Performance Art Festival ,Saranrom Park,BKK.
1999
"Before the dawn"U-Gabat Group at Bantanam Rest., BKK.
"Wall and Ways of the wilderness" at National Gallery, BKK
"D.N.A. Do Not Art" Human Pedigree Project,Bangkok Outsider 5th at Roung pung Art community,BKK.
"Waerable" Bandung- Yogyakarta- Bali, INDONESIA.
ASIATOPIA2 International Performance Art Festival, Saranrom Park,BKK
2000
"Celebration on the occasion of thr centennial anniversary of Predee Banomyong,senior statesman" at National Gallery,BKK
"Art for Mun River" U-Gabat Group ,Concrete House,Nontaburi
"Festival Asiatico de Arts Performativas", Macau
"Avant garde International Art Performers", Hong Kong Art Center, Hong Kong
"The 5th Asian Performance Art Series + Shishu Summer Seminar", Nagoya -Tokyo- Nagano,Japan
"ASIATOPIA 3 International Performance Art Festival" Santichaiprakarn Park, BKK
"D.N.A. Bangkok Outsider 5th Roungpung Art community", BKK
2001
"NO LAND NO ROOT" ,Pratravadi theatre Gallery,BKK
2005年
"3rd DaDao festival"
北京 中国
"Performance Site :Myanmar 05"
ヤンゴン ミャンマー
---
=>Back to 大東亜共栄軒
=>Great East Asia Co-prosperity Restaurant web in English
=>Back to ARAIart web
ARAI Shin-ichi (web master/shinichiarai@hotmail.com)