4 May 2006 in Toyama
San Mu (Hong Kong)
"Memory for Fengjie town"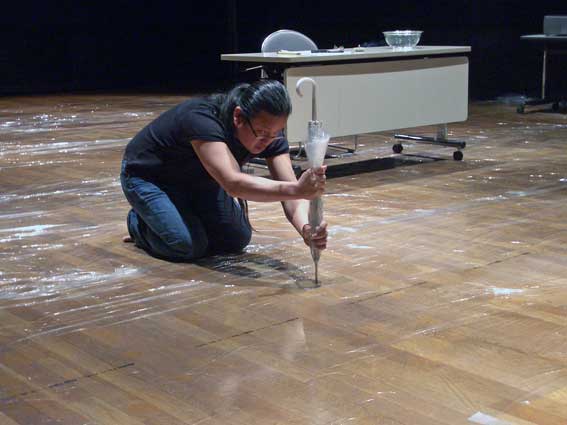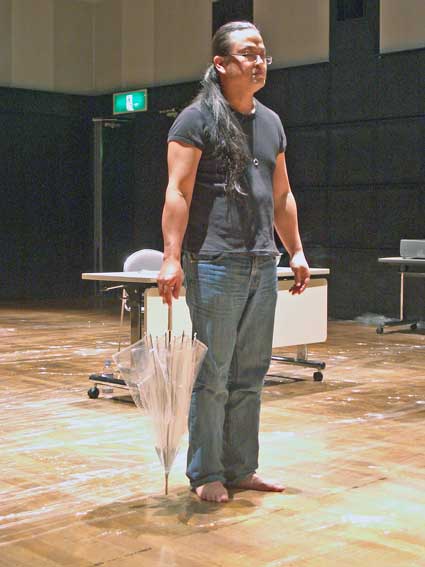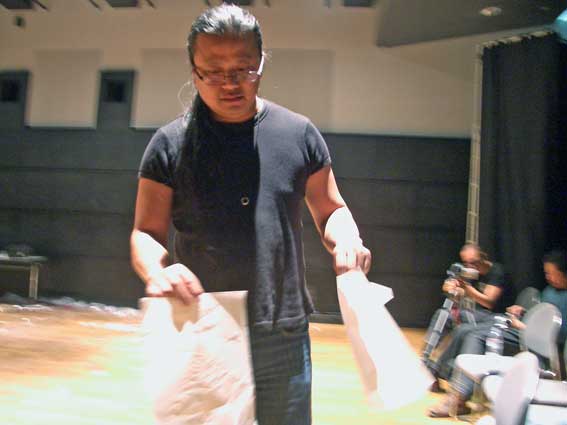 San Mu shows words "Fengjie" on the rice paper by water.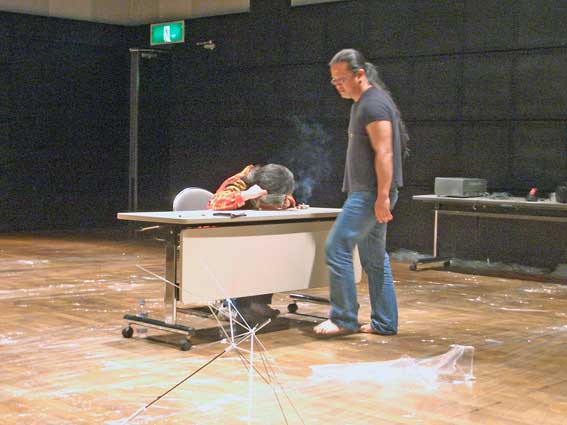 Some audience are invited to hear water in the bawl with incense burning.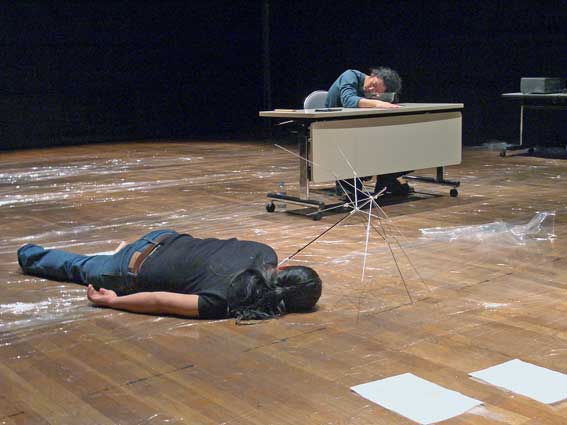 San Mu also hears water on the floor.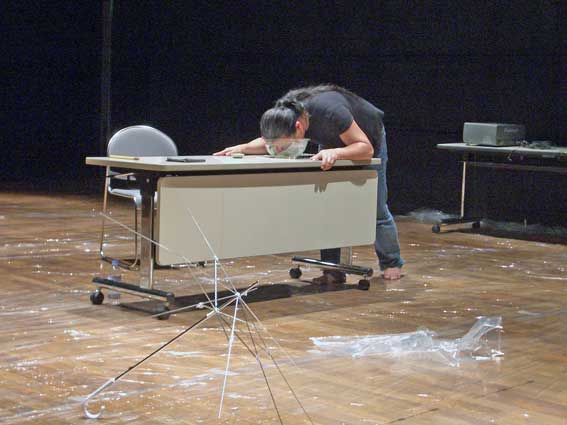 Fengjie town moves to make way for Three Gorges Project
Xinhuanet 2002-11-04 19:38:49

With a roaring blast, nine tower blocks disappeared.
Fengjie, a historic town in southwest China's Chongqing Municipality, came to an end after more than 2,300 years.

The usually bustling streets are blocked by hills of debris. Only the ancient city gates still stand, but their stones are numbered in preparation for relocation to a new town eight kilometers away.

It will have the same style of old Fengjie, but with more modern amenities.

Fengjie will be one of the first towns and counties to be submerged in the water storage of the Three Gorges Project, currently under construction on China's longest river, the Yangtze.

Statistics from the construction department of Fengjie County show that the old town, covering 1.4 square km, had a population of 100,000, with a higher density than Shanghai, China's most populous city.

The new town is composed of six districts, covering an area more than twice the size of the old Fengjie town.

A local driver surnamed Wei said his old home of more than ten years had a floorspace of about 60 square meters, but after relocation he had a new apartment of 150 square meters.

The new town had better living conditions, with wider streets, more grass and flowers and better air, said Wei.

Fengjie has been a major pass and transport hub since ancient China. "The government will move the original form with two ancient gates and Yong'an Palace, a historical site, to the new city," said Liu Benrong, a leader of Fengjie County.

The excavated cultural relics would be exhibited in the new museum and the streets and statues in the new town would reflect the culture of the old town, said Liu. Enditem
---
San Mu
Born in Beijing 1963
1986
Start performance art in Guangzhou
1987
Move to Tokyo,Japan
1989
After crackingdown on pro-democracy demonstrators at Tiananmen Square, San mu participated movements of pro-democracy of China in Japan. Also he tried to make his work related to pro-democracy of China in his way.
1997
Participated Nippon International Performance Art Festival(NIPAF)
2002
Move to Guangzhou
Organize "ARTS ATTACK" festival for Tiananmen vigil in Hong Kong
2003
"Transborder Language" 798 Arts District, Beijing
"1st DaDao Live Art Festival" 798 Arts District, Beijing
"4th Open art festival" Changchun,China
2005
Co-organizer of "Hong Kong on the Move"
---
=>Back to Great East Asia Co-prosperity Restaurant
=>Great East Asia Co-prosperity Restaurant web in Japanese
=>Back to ARAIart web
ARAI Shin-ichi (web master/shinichiarai@hotmail.com)