17+18 June 2002 "ARTS ATTACK"
Hong Kong Cultural Center Studio Theater
ARAI Shin-ichi
(Tokyo)
Happy Japan! --I was very moved--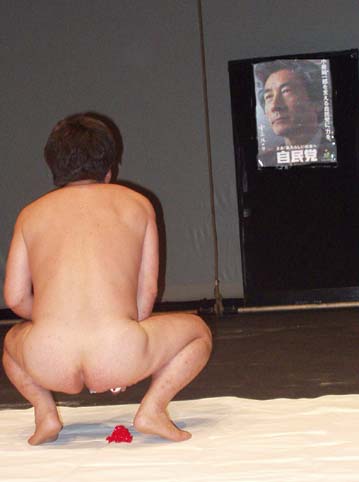 ARAI defecated with red Liquitex paint in front of Japanese Prime Minister KOIZUMI photo
And also sung National anthem "Kimiga Yo - Long live Emperor era"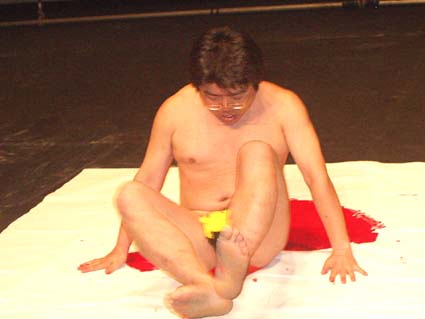 With Pikachu covering his penis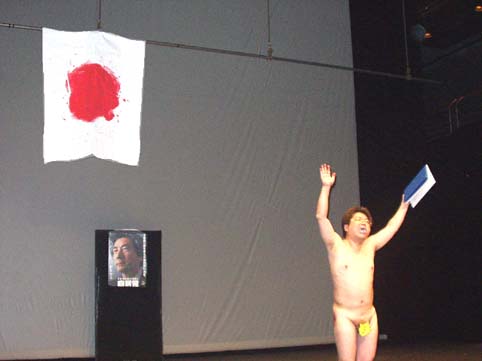 In front of Japanese flag made by his hip and KOIZUMI Photo,
[KOIZUMI said "I was very moved" in many occasions with his happy smile like after his friend Bush and he played catch in the "U.S.A.".]
ARAI shouted "Happy Japan!"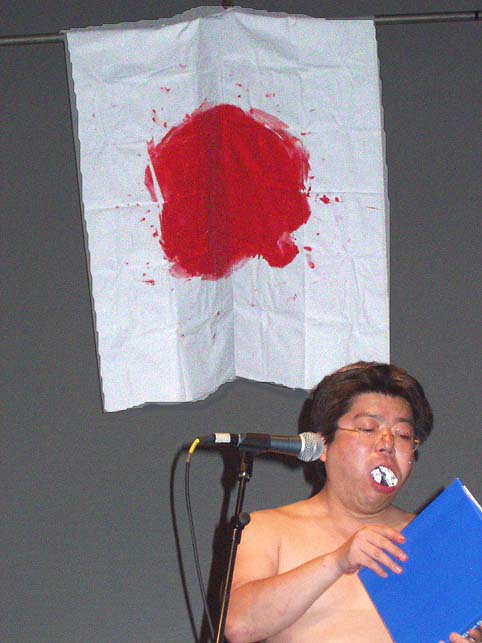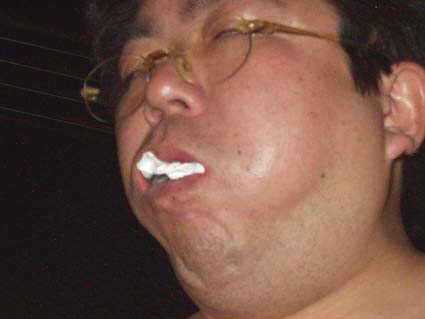 all photos:
Mokchai
ARAI shouted "Happy Japan!" in his mouth filling with pages of collection photographs of KOIZUMI published by commercial publisher which many Japanese people bought.
At last ARAI shouted "Happy............. People united!"
---
17 June 2002
Yuen Kin-Leung (Hong Kong)
Nelson Hiu + Ling Lee (Hong Kong)
Wang Chuyu (Beijing)
Shu Yang (Beijing)
TANAKA Teruyuki (Tokyo)
Chen Shi Sen (Hong Kong) + audience
Kwok Mang Ho (Hong Kong) + audience

18 June 2002
TAKAHASHI Fumiko (Tokyo) + [Nelson Hiu and Ling Lee (Hong Kong)]
Wang Chuyu (Beijing)
ARAI Shin-ichi (Tokyo)
Kwok Mang Ho (Hong Kong) + Yuen Kin-Leung (Hong Kong) + audience
Hua Ji Ming (Beijing) + Nelson Hiu (Hong Kong)
Feng Weidong (Beijing) + [Ko Siu Lan(Hong Kong)]

---
17+18 June 2002 "ARTS ATTACK" contents
=>
ARAI Shin-ichi WEB Top
=>