29 April 2006 in Tokyo
Mongkol Plienbangchang (Thailand)
"Crashing Horison"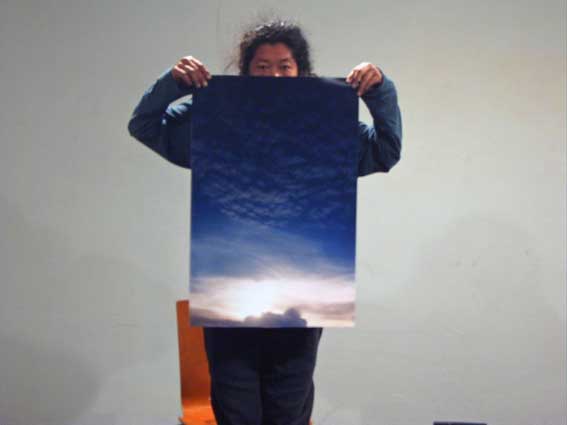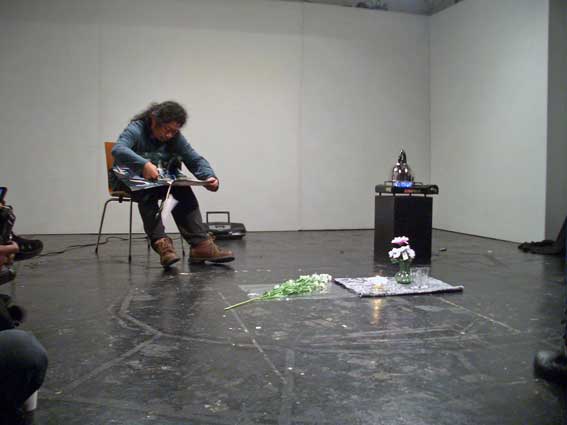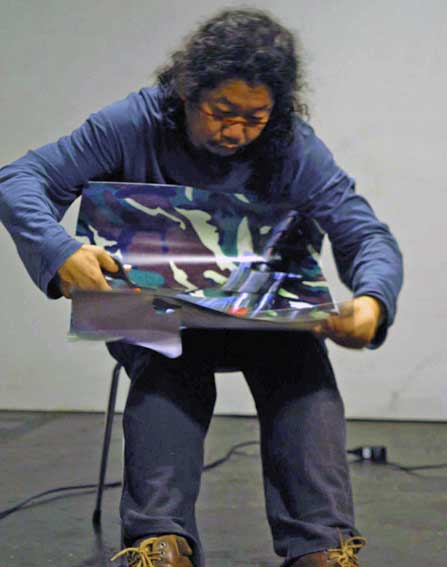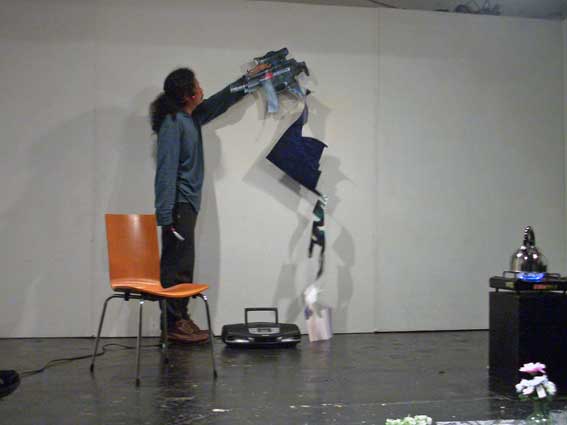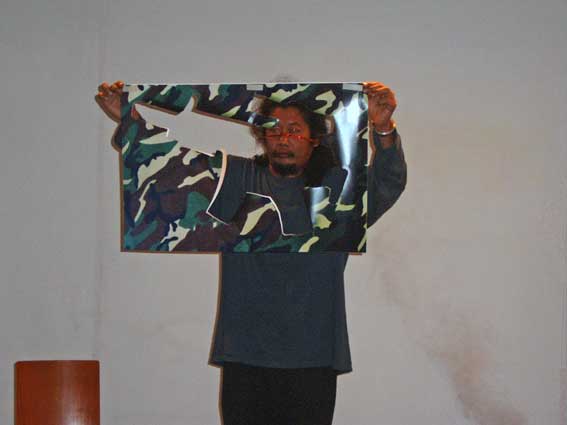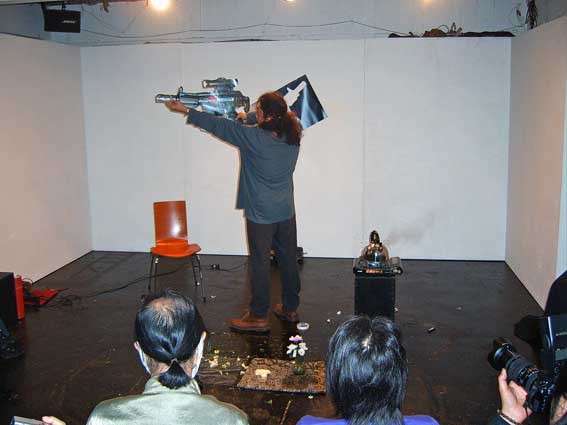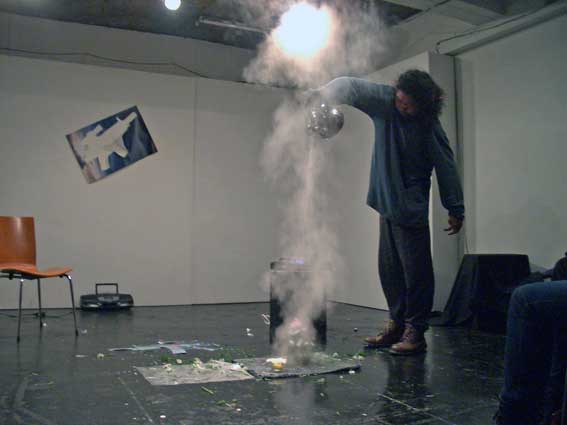 ---
Mongkol Plienbangchang

Born; August 15, 1965 Bangkok
Education; B.A. ( Fine & Applied Arts) ,1990 Suan Dusit Teacher College
Address; 801 Soi Senanikom 2 Lardyow Chatujak, Bangkok 10900 THAILAND
Tel ; 02-941-9408, 06-506-6417
e-Mail; m_plien@yahoo.com

Mongkol started to do Art Performance since 1995 ,he also a painter and poet.
In 1995 he's the one of U-Kabat's commitee who have a art and social movements.
Mongkol's art works have always been very intense, addressing the Thai political sphere with critical ideas between capitalism and native culture.
Mongkol has done more than 50 Performance for many festivals, both Thailand and around Asia. Mongkol is the
ASIATOPIA
's commitee and always join with another art&social movements groups.


Selected Exhibitions

1994
The International Fax Art gTOXICITYh at Concrete House,Nontaburi
Bangkok Outsider 2nd at Roung pung Art Community, BKK
1995
gNevermind! Nuclearh Bangkok Outsider 3rd at Roung pung Art Community,BKK.
gPassion & Loveh at Aiem jun Rest&Gallery - Nai indra Bookshop,BKK.
gArt-Socialh at Predee Pranomyong institute,BKK.
1996
LIVE ART,THAILAND The First Performance Art Event,Concrete House,Nonthaburi.
gVirtual Realityh Roung pung Art Community,BKK.
gMEGA-CITYh Rhatchada phisake,BKK.
1997
gUp Side Downh Bangkok Outsider 4th at Roung pung Art Community,BKK
gPrivate Situationh at Ban silp ram indra,BKK
gSociety and Spirit of Glabalizationh at The art centre,Centre of Acadamic Resources Chulalongkron University,BKK
gArt for Celebration 65 years of Thai Democracyh at Predee Pranomyong Institute,BKK
gWestern Australian International Artists Workshop 1997h Birdwood Dawns,Derby,Kimberley,Australia
LIVE ART THAILAND, The Second Performance Art EVENt, Concrete House, Nonthaburi
1998
gNever my Landh Amazing Art for Amazing Thailand with U-Gabat Group at Sunday Gallery,BKK
gUrbanizationh Collaborative event, Bandung INDONESIA
gPlastic(& other ) Wasteh with Asia-Pacific Artist Solidarity Group at The art centre ,Chulalongkorn University,BKK
gMoody on madlyh with Paisan Plienbangchang at Roung pung art Community,BKK - gASIATOPIA 1h International Performance Art Festival ,Saranrom Park,BKK.
1999
gBefore the dawnhU-Gabat Group at Bantanam Rest., BKK.
gWall and Ways of the wildernessh at National Gallery, BKK
gD.N.A. Do Not Arth Human Pedigree Project,Bangkok Outsider 5th at Roung pung Art community,BKK.
gWaerableh Bandung- Yogyakarta- Bali, INDONESIA.
ASIATOPIA2 International Performance Art Festival, Saranrom Park,BKK
2000
gCelebration on the occasion of thr centennial anniversary of Predee Banomyong,senior statesmanh at National Gallery,BKK
gArt for Mun Riverh U-Gabat Group ,Concrete House,Nontaburi
"Festival Asiatico de Arts Performativas", Macau
"Avant garde International Art Performers", Hong Kong Art Center, Hong Kong
"The 5th Asian Performance Art Series + Shishu Summer Seminar", Nagoya -Tokyo- Nagano,Japan
"ASIATOPIA 3 International Performance Art Festival" Santichaiprakarn Park, BKK
"D.N.A. Bangkok Outsider 5th Roungpung Art community", BKK
2001
"NO LAND NO ROOT" ,Pratravadi theatre Gallery,BKK
2005
"3rd DaDao festival" Beijing, China
"Performance Site :Myanmar 05" Yangon, Myanmar
---
=>Back to Great East Asia Co-prosperity Restaurant
=>Great East Asia Co-prosperity Restaurant web in Japanese
=>Back to ARAIart web
ARAI Shin-ichi (web master/shinichiarai@hotmail.com)