KURODA Osamu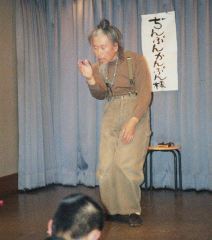 KURODA Osamu 1999.3.16 @Duluce, Matsumoto, Japan
(b.1931.3.4)
C.V. :
1938 Although I was only a child, I decided to be an artist, and studied under Yotchan, a picture story teller.
l945 After the second World War I was involved in avant-garde arts, dance and something conceived liberally.
l953 I wandered the bottom of the social ladder, mainly around Sanya, performing < a begger > with Kamechan and others.
1954 I associated with Tagawa Suiho, a performer and comic strippist in theTaisho period.
1988 I was found by Donchan, a butohist and Mr. Kogawa Tetsuo, a media critic.
TITLE : "HOITO <begger> performance"
CONCEPT : Freedom and Rebellion
---

黒田オサム
略歴
1938 子供心に画家になることを決心、紙芝居屋のヨッちゃんに師事
1945 戦后自由な発想によるアバンギャルドな美術、オドリに熱中
1953 カメちゃん等と乞食(ホイト)芸をおこない山谷を中心に底辺をさまよ
1954 大正時代のパフォーマア漫画家田河水泡と交流
1988 舞踏家ドンちゃんとメデイア批評家粉川哲夫さんに見出される

作品タイトル:ホイト芸

コンセプト:自由と反逆