Amanda Heng
title; LET'S WALK
concept; Women's bodies were crippled and their lives conformed and confined to the service of men. Today modern women are still risking their health wearing supper high heels to portray their sexy, slender and perfect bodies to satisfy the desire of the male gaze and need.

Chumpon Apisuk (Thailand)
title; PRESENT CONTINUOUS (OF TRUE STORIES OF 1999)
concept; The performance is based on interaction with the audience, with a live audio reording of individual name and inventory of events in which audiences would b a major part of this part.
Gigih Wiyono (Indonesia)
Sukoharjo, Central Java, 30 august 1967
title; VISUM ET REPERTUM
concept; Man and woman always try to perceive the reality, including he himself or she herself and others. Human being always conducts the process of perception and understanding in grasping the reality and in expressing it to others.

Iwan Wijono (Indonesia)
title; LIBERALISM CELEBRATION and SPEECH
concept;Liberalism in its forms of global capitalism and liberal capitalism has dominated over socialism. The domination has emerged in the multidimensional crisis that severely hit Indonesia, because the country has lost in a free market competition. This country is rich with natural resources but the people are very poor, The former government were very rich, but they have failed to come out of huge foreign debt. Even a baby just born has to bear 7,5 million rupiah (US$1030) of debt. The youth ironically love music, films, dressing and foot of foreign life style of the western and particularly the United States' people.
"Viva the United Nations! Viva United States!"
Isa Perkasa (Indonesia)
21 June 1964 Cikijing,West Java
title; MY OFFSPRING WILL SURELY ASK ME WHY
concept;Indonesia is torn apart agonizing of having been hurt by slush wounds,prone to conflicts.Total civil war as such told in the Bharatayuda epic threatens its people. Human soul seems worthless.Yet democracy has become uncontrolled and incomprehensible to common people of this contry. Now the country with its racial and religious diversity is ailing and wailing. May the red and white flag, symbol of unity, remain waving for future generation.
Jason Lim (Singapore)
Date of birth 14 June 1966
title; FOREIGN TALENT
concept;To me, art has to create a sense of "dis-ease". It has to ask questions and some prediction into what the future holds. It has to have many layers of meaning. It should no just reflect life, like the newspaper. Art has to possess a spiritual value, something that opens certain states ct consciousness , because we are losing ourselves too quickly. The body has become a heavy obstacle. As an artist we know how to live, to die and to stop working.
Ma Liu Ming (China)
Date of birth: 29 October 1969
title; FEN-MA LIU MING IN JAKARTA
concept;The audience will have photo with Fen-Ma Liu Ming, clothe or naked. I have done this performance 14 times in different countries, this time Fen-Ma Liu Ming will exchange with Jakarta people.
Padang Ilalang Group (Indonesia)
title; UBIQUITOUS BLOODBATH
concept;The performance calls on and advocates all elements of the people in the society to take measures and to find legal solutions over hum rights violation cases, either that are occurring have taken place in the past. Because, rights perpetration, whatever the reasons behind, is intolerable.
Padungsak Kochsomrong (Thailnd)
Date of birth 2 October 1964
title; I'M FINE, THANK YOU. HOW ARE YOU?
concept;I am a Thai man?
My country is in a good condition?
My government is a good government?
Economics is going well?
People hope they will have a good life?
Slute! Slute! Slute!
I'm fine. Thank you.
Ray Langenbach (USA)
title; POSTPROP-AGITPROP
concept;"postprop-agitprop" is dedicated to the 'capitalist realist' artists of the 21st century...those of us who find ourselves complicit with continuing regimes of terror and oppression."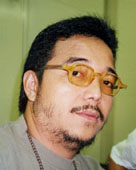 Yuan Mor'O [Philipine International Performance Art Festival/PIPAF orgnizer]
title; ATANG-ATANG: MANUNGGAL
concept;Insofar as art manifests the invisible in the visible, suggests the possible by confronting the impossible, opens unforeseen realms, bolsters that urgent desire to reintegrate art and life, to reaffirm and reidentify with one's cultural roots, to reclaim lost or denigraged sources of knowledge, to valorize the visual as opposed to the verbal in art, can't art not be seen as sacred? For as the spiritual condition of the world improves, aesthetic quality will be increasingly valued.
---