The Force of Job sites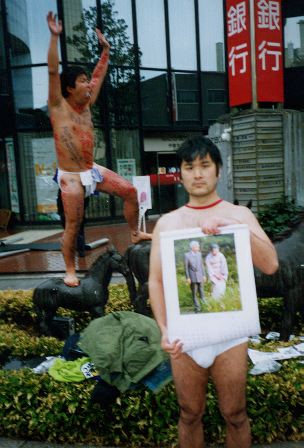 The Force of Job sites (ARAI Shin-ichi+ SAEGUSA Yukio)
"Happy family, Happy Japan" 1999.3.21 @Imaike, Nagoya, Japan
(ARAI b.1959.5.7, SAEGUSA b.19602.20,Japan)
TITLE : A Decade of The Glory+Happy family, Happy Japan
A Decade of The Glory, Tokyo 3/9 +Osaka 3/17 +Nagoya 3/22
Happy family, Happy Japan, Nagano 3/13 +Matsumoto 3/15 +Nagoya 3/21
CONCEPT :
A man has never done the complete his works. A man whom everybody hopes him to die suddenly.
A man who is an unpleasant over grown infant, no one will have anything to do with him. Yes, I am such a man.
Nevertheless, I have been still living for several decades.

When a girl friend whom I thought she was my sweetheart and I traveled her home town, we had a plan to visit the grave of her father.
As a matter of fact, I felt this visiting was boring, too. She did not know her father while he was alive. Outside the village, there were a little wood among rice fields.
I thought the grave was there. Just then I felt my left sight was oppressed, and a trash heap appeared. Her mother mumbled that he was buried here.
Tears welled up from my eyeballs. I couldn't stop them. While the emotion rose, I woke up from the nightmare.
I was actually shedding tears.
I was surprised I had been crying in the bed, just like my old mother who often sees teary TV dramas.
I found the power to cry still left in my flesh and soul.
I got a strange feeling.
C.V. :
1981 Started collaboration to realize the interplay of pictures and sounds.
1987 Named the collaboration team "The force of job sites".
<titled works>
1990 "Infant minds"
1991 "Majority in my soul"
1995 "50 years after losing the war"
1995 "A imagination from the end of life"
1996 "The labor of dream, The dream of labor"
1997 "A lay of hope"
---
現場の力(荒井真一+サエグサユキオ)
作品タイトル:
栄光の十年、東京 3/9 +大阪 3/17 +名古屋 3/22
家族万歳、日本万歳、長野 3/13 +松本 3/15 +名古屋 3/21
コンセプト:
満足な仕事もできない半端者、ぽっくり死んでくれたらいいなと思われている者、まともに相手をしたくない不愉快な大人の幼児。
それでも僕は何十年も生きている。
彼女らしき人の実家を訪れた際、父親の墓に寄ることになった。
彼女は父のことを知らない。
村のはずれの田圃の一角に木がこんもりと植わっていて、そこが墓のようだった。
僕はこの墓参りも実は退屈に思っていた。
そこへ行く途中、左側の視界が圧迫される感覚が起こり、残土堆積場のようなものが突然現れた。
母らしき人はあなたの父はここに埋められているのですと言った。
突然目玉の中から涙がこみ上げてくるのを感じ、それを止めることができなかった。その感情の高まりの中で目が覚めた。老いた僕の母が人情ドラマを見て泣くように、布団の中で泣き濡れている自分に驚いた。
そして僕の肉体にはまだ泣く力が残っているのだ、と妙な気持ちになった。
略歴(荒井真一+サエグサユキオ):
1981年より絵と音の交錯を実現し(折り合えば)共同作業をする。
1987年より「現場の力」
『うぶごころ』1990
『私の中のマジョリティ』1991
『敗戦50年』1995
『有終の想像力』1995
『福福物語;労働の夢, 夢の労働』1996
『一縷の望み』1997