FOI3: Future of Imagination 3
in Singapore April 2006
12 April 2006
Tang Da Wu (Singapore)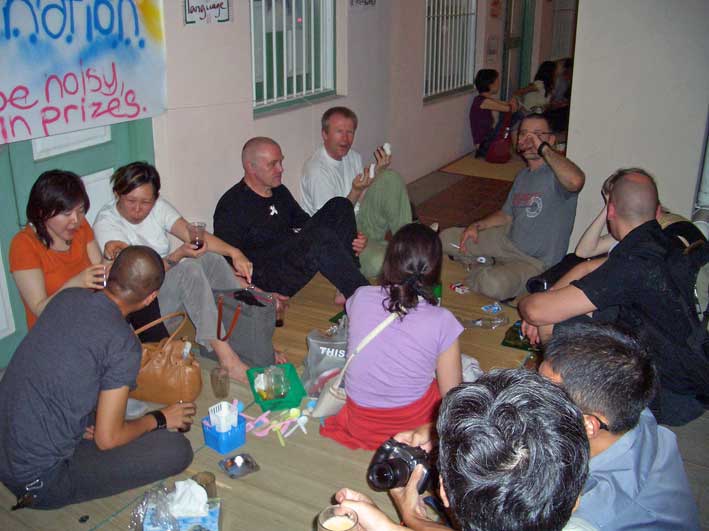 Tang Da Wu (Singapore)
I am sorry I could not shot good photos of Tang Da Wu's performance, because after my performance I should to take a shower.
---
Tang Da Wu
b.1943 Singapore

Upon his return from studying, working and living in England for 20 years in 1988, Tang helped established the Artists Village, an alternative art group in Singapore.
He participated in various international events since 1989 such as 3rd Asia Art Show, Fukuoka Art Museum, "Creativity in Asian Art Now", Hiroshima City Museum of Contemporary Art. Since 1988 Tang began to experiment in combining mixed-media, installations with performance. Tang's work provided a stimulus to take Singaporean art in new directions, infusing a shot of energy into the somewhat lackluster Singapore arts scene together with other young motivated artists. He played a leading role in the search for new forms of expression. Tang often made observations of the everyday world around him in order to include viewers to help in the creative process.
Tang has used his works to bring to the surface critiques of everyday life, provoking questions about the society and civilization that exist in quotidian ways all around us. Tang Dawu was awarded the 10th Fukuoka Asian Cultural Prize in 1999.
©FOI 3
---
=>Back to FOI 3 top
=>Back to ARAI web


---