FOI3: Future of Imagination 3
in Singapore April 2006
12 April 2006
Arai Shin-ichi (Japan)
YOU ARE NO GOOD
-tourist #6-
5 Singaporean beauties photos, 10 eggs, 5 small bananas and small bar set with J(apanese)-Pop music.

At first Arai sing a national anthem of Japan "Kimi ga yo."
And make a red circle on the canvas.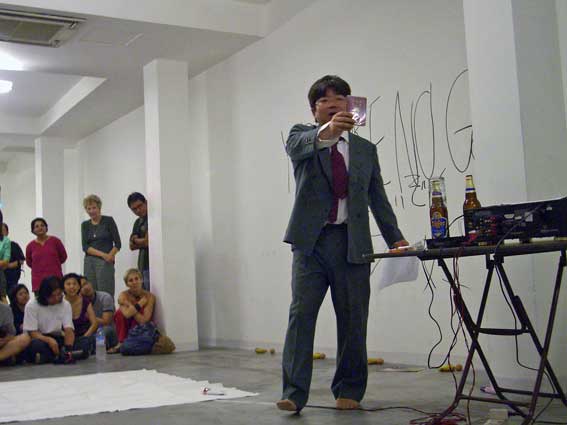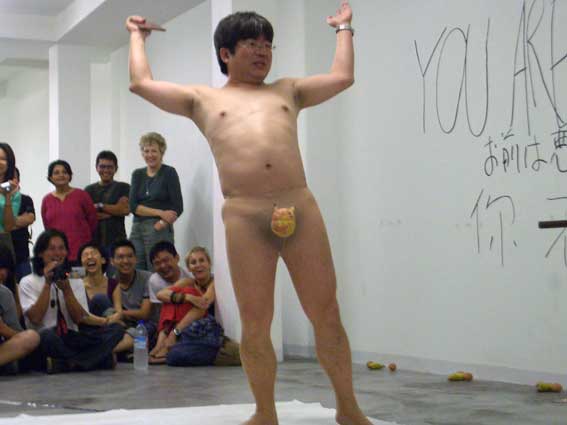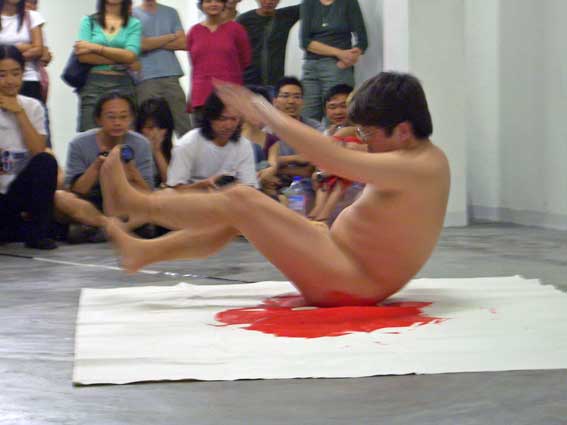 later Arai put the red circle like Japanese flag on the wall.
And tell his 5 stories bellow.
before one story Arai invites female audience to dance with.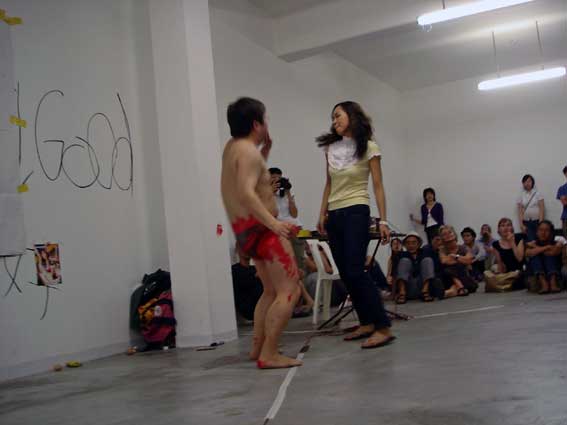 Arai again tell the story.
Arai put 2 eggs and 1 small banana in his underwear and crash against one Singaporean beauty photo.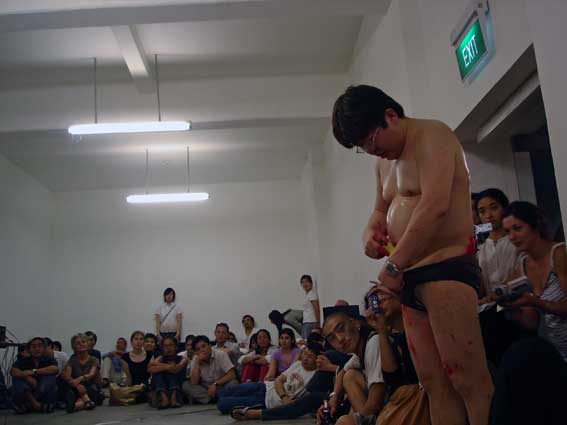 Standing on his head
Shouting
"I like money, I like power, I like young beautiful woman"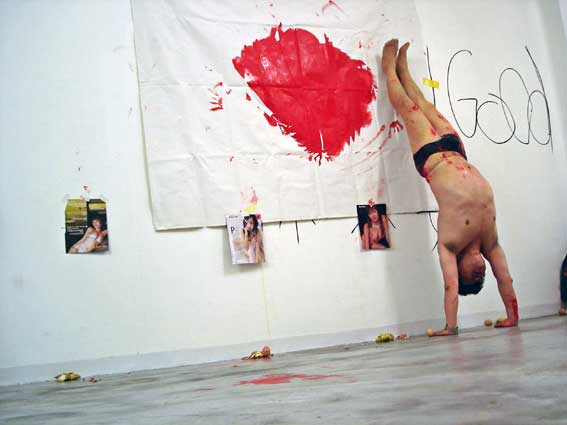 5 stories
1
This is the uniform of Japan Overseas Cooperate Volunteers.
This organization send Japanese young people to so-called developing countries.
They teach Japanese, repairing car technique, agriculture etc. there.
I was the member from 1992 to 1994 and taught fine art especially wood cut printing for young artists in Zanzibar, Tanzania, East Africa.
The organization is supported by Japanese government and the president is the Emperor.
So I had official passport like diplomat.
And the organization call the members "A little diplomat for friendship"
I got 250USD per month. In Tanzania, average salary of people was 50USD that time.

2
Zanzibar is a small beautiful island in Indian ocean and Our organization office is in Dar es Salaam, capital city of mainland Tanzania.
So 2 month at once we must go our office to report our works.
In Dar es Salaam, I also went bars and Discos very much for my holiday.
I drunk too much. Sometimes I went with my girl friends who are also sex workers to her cheep guest house.
In the morning I pay her 20USD and say Bye Bye.
But in Japan I never take sexual services.

3
In 1994 August I met beautiful woman at the bar, so we of course went to her guest house.
And I told her "Zanzibar is a beautiful Island, If want to visit, Let's go Zanzibar with me. In this evening I will be back to Zanzibar"
My saying was half true and half joke.
In the evening when I waited my ship to Zanzibar at the port, She came with her big baggage.

4
In Zanzibar, we visited seaside, old ruin of fort and many many place to visit and had very happy and sweet days.
But she did not say "I will be back to Dar es Salaam."
And I could not tell her "Go back to Dar es Salaam."
So we stayed together in my house until my departure of Tanzania.

5
Someday in October 1994.
She said to me "I have no menstruation"
We waited it until one week but it did not come.
Even we used condoms, but once or twice that were broken.
She said to me "I will not have our baby."
I think also but I was very confused.
She said "Please give me 100USD, I will go back to Dar es Salaam, and the doctor of my friend will operate to kill baby."
I could not say NO!

I got her letter only once after Tanzania days.
And my Japanese friend in Tanzania sometimes told me on telephone
"She is fine, yesterday I saw her at the Disco"
---
Arai Shin-ichi
b. 1959 Toyama, Japan

Arai lives and works in Tokyo. He studied his B.A. in Chinese modern literature at Tokyo Metropolitan University under Mr.llkura Shohei. Later he majored in printmaking from 1981 to 1987. He also began experimenting in sound, voice and language pertormance actions since 1982. As a Japan Overseas Cooperative Volunteer he taught at Nyumba ya Sanaa Art school in Zanzibar, Tanzania 1992-94 where he experienced various insights into the relationship between culture and politics in contemporary society. This led to his radical social-political performances today.
In his raw and direct style, Arai's body appears as a site of social tension presented with humor yet biting criticism. Often exposing the conservative and xenophobic cultural tendencies and contradictions in global and local situations.
Besides performing regularly in Japan, Arai has also presented his works internationally and especially in China such as Hong Kong, Guangzhou, Xian, Chengdu, Changchun, and Beijing.
http://www.araiart.jp/

©FOI 3
---
=>Back to FOI 3 top
=>Back to ARAI web