29 Aug. 2004
ARAI Shin-ichi (Japan)
"Tourist #8 International"
ARAI took off his clothes, keeping only a small yellow Pikachu Pokemon fig leaf on his genitals, and squats on a canvas. While singing the Japanese national anthem "Kimi-ga-Yo means Our superior@Emperor regime", he presses a plastic tube containing red paint from just below his buttocks, as if excreting red human waste.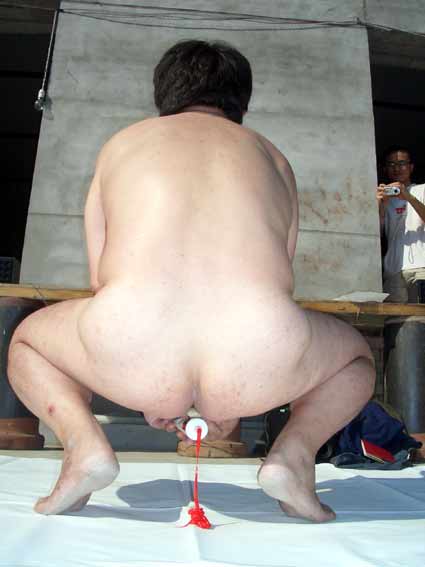 Using his bare buttocks on the "waste." he paints a full but irregular rising sun in the middle of the canvas that turns out to be a copy of the Japanese national flag, which he later hangs on the wall.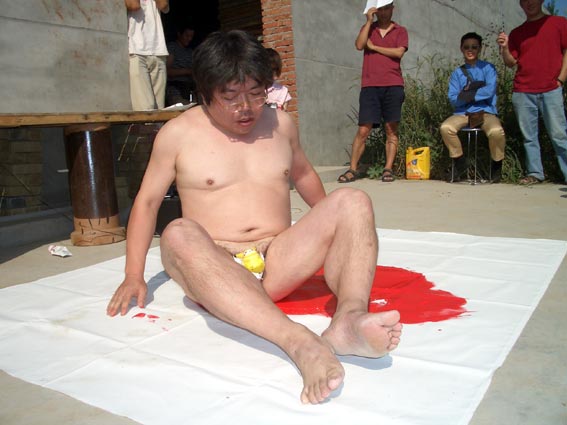 After hanging it on the wall, ARAI was singing "International" in Japanese and using his head to try making red paint all over the canvas.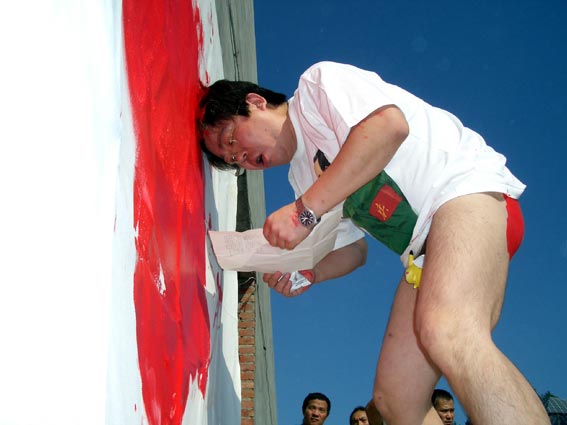 At last the canvas became a awkward copy of Red flag.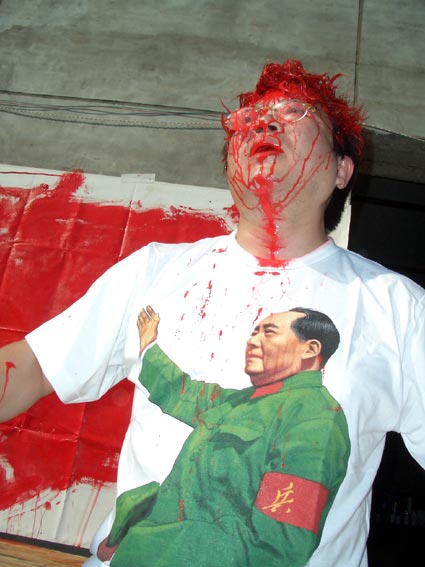 ---
Before ARAI went to China many Japanese people told him to take care in China
Because;
Trouble flares
Japan defeats host China 3-1 to keep Asian Cup title
Posted: Saturday August 7, 2004 10:54AM; Updated: Saturday August 7, 2004 2:19PM

BEIJING (AP) -- Keiji Tamada scored in injury time Saturday to seal a 3-1 Asian Cup final victory for defending champion Japan over host China in a tense match overshadowed by nationalistic passions among Chinese and anti-Japanese violence.

The loss was a heartbreaking ending for a much-improved China, which had downed Asian rivals such as Iran and Indonesia on its way to appearing in its first-ever final of the continent's most important soccer championship.

Ultimately, though Japan's experience showed through and its players were able to hold on for the win while China flagged.

"From beginning to end Japan showed maturity, quality and experience, and was well prepared," said Japan's Brazilian-born coach, Zico.

Following harassment of Japanese players and fans at previous matches, thousands of police -- including riot troops in black body armor and shotgun-toting special tactical units -- stood guard outside Beijing's Workers' Stadium.

The tournament rivalry has given vent to anti-Japanese sentiments over Japan's brutal World War II invasion that are stoked by frequent confrontational reports in Chinese state media.

Following the match, crowds chanting anti-Japanese insults broke bottles and exchanged kicks and punches with police outside the stadium. At least three men were seen being taken away by officers, but it wasn't clear if anyone was injured.

Japan opened the scoring against the run of play in the 23rd minute when Shunsuke Nakamura lofted a free kick from the left to the far post, where Takayuki Suzuki turned it back for Takashi Fukunishi, whose close-range header hit the net under the crossbar.

To the delight of the crowd, veteran striker Li Ming equalized in the 31st minute with a powerful left footer from the top of the penalty area, after Yan Song had dribbled his way through two defenders on the left side to deliver a low cross to the middle.

Japan's attack looked sharper in the second half, and Koji Nakata put Japan ahead in the 65th minute with a controversial goal off a corner kick by Nakamura. Nakata made contact after the ball had skipped off Suzuki's head and it appeared to have hit Nakata's hand.

China's best chance to equalize came in the 89th minute when Kawaguchi was forced to make a pair of excellent saves at full stretch as Chinese attackers swarmed.

The Japanese 'keeper was tested again minutes later when Xu Yunlong chased a long pass in the box, but was unable to get his shot off in time.

Tamada scored Japan's third goal in the first minute of injury time, easily slotting a low blast past Chinese keeper Liu Yunfei and silencing the crowd of 65,000 flag-waving Chinese supporters.

China's Dutch coach Ari Haan accused Kuwaiti referee Saad Al Fadhli of making wrong calls on all three goals by Japan and boycotted the awards ceremony following the match.

"I'm feeling very disappointed and feel sorry for the beautiful fans of China to lose a game one should not lose," Haan said.

Japan has only lost twice to China in their last 10 meetings and has won all four of their Asian Cup matchups.

Despite the loss, China can take solace in seeing its FIFA world ranking shoot up 13 places during the tournament to 51.

Both Japan and China had appealed for calm before the game after Chinese fans booed the team in previous appearances and pelted fans with garbage. The Japanese Embassy cautioned Japanese in China not to wear their blue national team jerseys or carry firecrackers or banners with confrontational slogans to the final. The embassy building was also sealed off with barbed wire barriers.

Although the crowd booed through the Japanese national anthem -- something Japan's government and coach Zico had complained about previously -- there was less abuse inside the stadium than in Japan's previous matches. Several hundred Japan fans, many displaying Chinese as well as Japanese flags, sat in a separate section of the stadium where they were guarded by scores of police officers.

The harshest sentiment on show was a banner reading "This time, the Chinese people get to be the bullies" -- another reference to Japan's wartime record.

---

ARAI Shin-ichi (Japan)
"Tourist #8 International"
---
---
©ARAIart.jp